Click a question below to see the answer.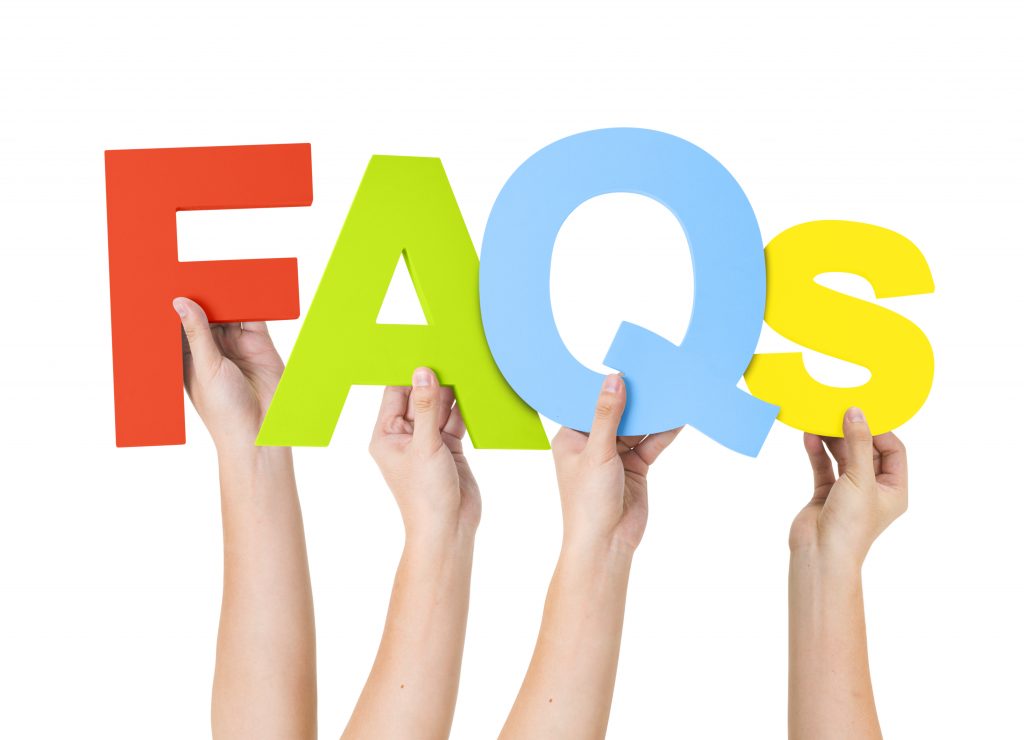 VoIP General FAQs
What is VoIP?
VoIP stands for Voice over Internet Protocol. It is a technology that allows you to make voice calls using a network connection instead of a regular (analog) phone line. VoIP converts your voice into a digital signal for transmission.
Will my department realize cost savings if we move to VoIP?
Yes.  During the 3-year period in which the University will be migrating Bell Centrex lines to VoIP, departments can expect to realize a ~30% savings compared to legacy Bell Centrex service.  After the 3-year migration period, the savings will increase to ~50%.  The VoIP system will also significantly reduce long distance costs and will nearly eliminate the cost of moves, adds and changes. Lastly, the cost of Bell Conferencing accounts can be eliminated by using the "My Room" functionality included in each 'Premium User' VoIP line.
I understand that I don't need a physical phone. How do I make and receive calls if I don't have a handset?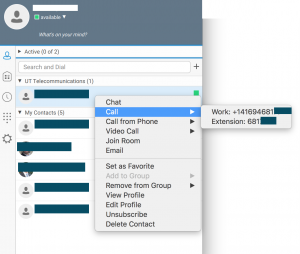 With VoIP, you don't need a physical phone in the traditional sense. To make and receive calls, you can use an application on your computer, along with headphones or earbuds with a microphone, or an application on your mobile phone. To make a call to one of your contacts, you right-click on their name and select Call:
You can also manually dial the number from the application: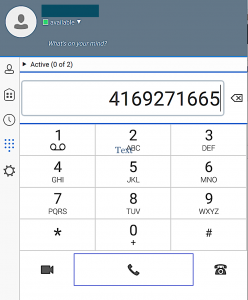 How does 5-digit dialling work between Bell Centrex and BCT VoIP phones?
One of the end user experiences that will be immediately affected is 5-digit dialling (direct extension dialling). Currently, Bell Centrex users are able to dial 946- and 978- numbers using only the last 5 digits of the phone number.
Once a phone line is moved from Bell Centrex to BCT (VoIP), that number will no longer be reachable from a Bell Centrex line using 5 digits.  Users will be required to dial all 10 digits of the phone number. If they call the number using only 5 digits, they will hear a 'your call cannot be completed' message. BCT users will be able to dial both Bell Centrex and BCT phone numbers using only 5 digits.
The chart below shows the circumstances under which 5-digit dialling will and will not work:
| | |
| --- | --- |
| Calling Scenario | Does 5-digit dialling work? |
| Centrex to Centrex | Yes |
| Centrex to BCT | No (you must dial 9 + 10 digit phone number) |
| BCT to Centrex | Yes |
| BCT to BCT | Yes |
What happens if my department doesn't move to VoIP?
The current Bell Canada Centrex contract was valid until November 30th, 2019 with an extension into 2020 to provide extra time for the remaining departments to move. This means that the current pricing is not guaranteed to remain the same. It is highly likely that the per line pricing negotiated in the next Centrex contract will be significantly (as much as 2x to 3x) higher due to the fact that the total number of Centrex lines is expected to be much lower and the University will no longer benefit from the volume discounts it currently enjoys. Apart from the increased cost of Bell Centrex phone lines as compared to VoIP, especially once the current contract expires, there are many other reasons why it is preferable to migrate to the enterprise VoIP service:
Bell Centrex phone lines will not be able to make use of 5 digit dialing except to other Centrex phone lines.
Bell Centrex phone lines will continue to incur high costs for moves, adds and changes to the service location.
North American long-distance costs will continue to be levied for Bell Centrex phone lines, whereas calls within and between continental North America are free and unlimited under the VoIP service.
If a department has chosen to wait until after the 3-year migration window that UofT Telecom Services has planned, that department will incur significant phone line cancellation fees. One of the benefits of a department migrating their Bell Centrex lines during the 3-year window was that cancellation costs are averaged out for all phone lines migrated so as not to disadvantage early adopters or reward late adopters.  Those costs are rolled into the interim monthly fee for the VoIP service.
How do I update my Communicator 7 desktop application?
C7 Communicator Desktop Application Upgrade Procedure:
If you try to log into Communicator 7 on your desktop and you get a notification that the application needs an update please follow the instructions below for both Windows and MacOS users.
For Windows:
Step 1: Log in to the current version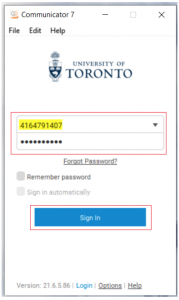 Step 2: Click on Yes when you get the upgrade notification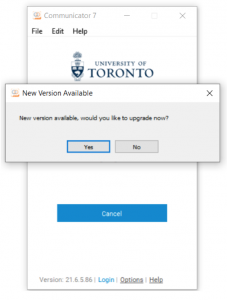 Step 4: Download and run the .msi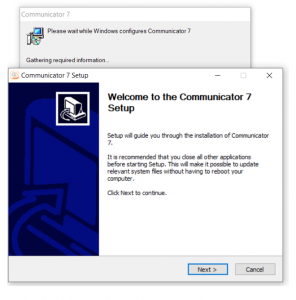 Step 5: Choose default options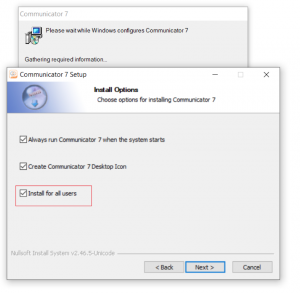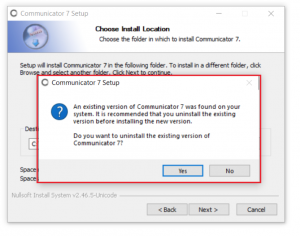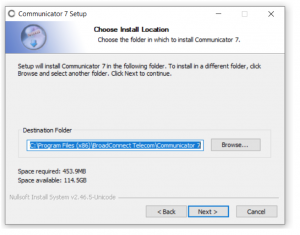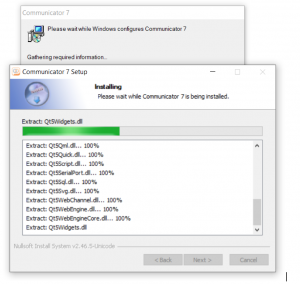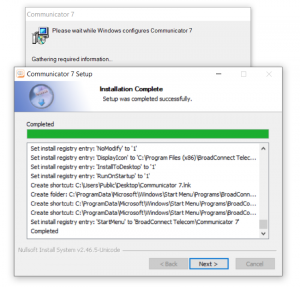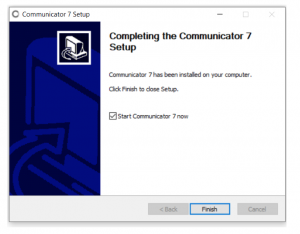 Step 6: Log in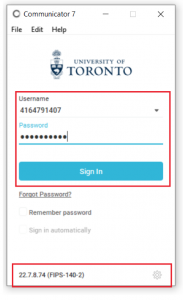 C7 Communicator Desktop Application Upgrade Procedure:
For MacOS:
Step 1: Log in to the current Communicator 7 version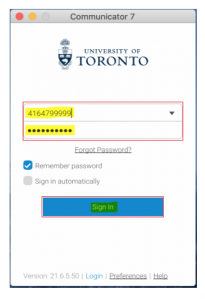 Step 2: Click on Yes when you get a pop up notification to upgrade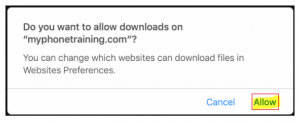 Step 4: If you receive a prompt to allow downloads select Allow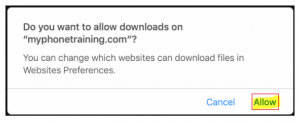 then go to Downloads folder on your web browser and double-click on the downloaded Communicator 7 .dmg file to run the installer


Step 5:New installer window will open. Select Communicator 7 using the trackpad's left button and move it to the Applications folder if you wish to locally install the application on Mac
Note: You may receive a prompt on your Mac to enter your personal Admin password to allow the installation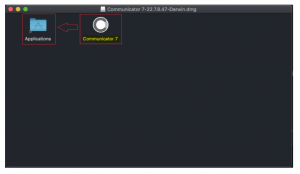 If you receive a prompt that there is already an application with the same name existing, select Replace
Step 6: After installation, go to your Applications folder and open the Communicator 7 application with a new icon


If you receive a prompt to allow the Communicator 7 app downloaded the internet to open it.
Select Open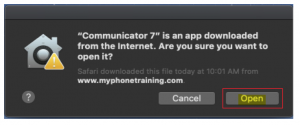 Step 7: Log in.
Upon starting the new Communicator 7 application, you should a new version 22.7.8.47 on login page.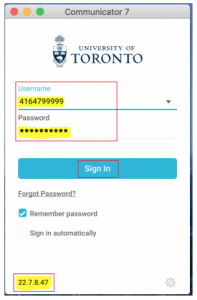 Who is the supplier of VoIP at U of T?
The company supplying VoIP services to the U of T community is BroadConnect Telecom.
As a user, where can I find training for the new system?
What does the Telecom Admin fee pay for?
Telecommunications is a central cost recovery unit which provides a wide variety of services to departments. The Telecom Admin fee covers the staffing and operating costs of this unit.
Telecom manages 3 separate contracts on behalf of the University:
Bell Centrex – while most departments have already migrated to VoIP, we are still obliged to offer the ability to have and maintain copper telephone lines throughout the University. We are actively seeking a new contract with Bell and we will communicate more once we receive additional details.
Bell Mobility – we support close to 4,000 Bell Mobility lines across the university offering tiered cellphone plans to departments as well as access to a portal for ordering phones and accessories.
BroadConnect Canada – Telecom is the central point of contact for the University's VoIP provider, Broadconnect, which provides over 12,000 VoIP lines. Telecom manages the contract, handles public procurement obligations including the initial RFP process through which the University procured the VoIP services.
Specific to VoIP, Telecom provides support to all U of T departments dealing primarily as an escalation point for local IT support. Telecom offers guidance on network setup, troubleshooting and access to the servers to execute changes. In some cases, Telecom provides detailed troubleshooting and support in cases where a department does not have the local expertise to field technical questions.
Telecom provides ongoing training and information sessions to help answer many of the questions that users might otherwise pose to their local IT. Telecom also maintains a collection of support and training materials such as user guides and video tutorials.
Telecom provides expertise in Call Centre setup as well as providing practical assistance in setting up call queues and reports.
During the 3 year migration period, which has now ended, departments were paying 3 components: the BCC line fee, the migration fee and the Telecom admin fee. Now that the migration period is over, departments that have migrated are only being charged 2 components: the BCC line fee and the Telecom admin fee.
Departments used to pay $33 per line all in for Bell Centrex. Now they are paying $17.75 for a standard VoIP line or $19.75 for a Premium line which include a personal audioconferencing bridge which they used to pay for separately.
Starting in Summer 2020, the new automated billing system for VoIP will be introducing enhanced VoIP billing reports. This is a major improvement on the old Bell reports that did not allow for any kind of analysis other than manually checking data. The new reports provide Business Officers the ability to drill down into much more detailed information per line.
Also coming Summer 2020, the UofT Phonebook integration project currently underway will allow for seamless updates to the U of T phone directory. Typically, it was incumbent on Business Officers to manage their departmental directory through a very antiquated system. The legacy phone directly was out of date so a new solution is being built to ensure that any updates to the VoIP user data is also reflected in the U of T directory.
Lastly, a new emergency dashboard used by Campus Police provides real time data of emergency calls to 8-2222 and non-emergency calls to 8-2323. This completely replaces the old system used by Campus Police that was handled with paper updates faxed from Telecom to Campus Police where updates were manually entered. With the new system, updates are done is in real time and operators receiving a call know exactly who is calling and can see the street address in a person's VoIP profile. Telecom is continuing to work on enhancing this service to provide prompts to users to confirm their location data to ensure that user profiles are kept current.
Why am I being billed a Telecom Admin fee?
Departments have always paid a Telecom Admin fee in order to cover the staffing and operating costs of the central Telecommunications unit.
As part of the new VoIP billing process, one of the primary goals was to increase transparency. Whereas the Telecom Admin fee used to be built into the Bell Centrex line fees charged to departments, the new VoIP billing process splits out the VoIP line fee from the Telecom Admin fee. This is why you are seeing a separate Telecom Admin fee in your departmental phone bill.
Will I lose phone service when power goes out ?
Depending on where you are and whether or not the network you are using has emergency backup power, your VoIP phone and/or computer may lose power.  If that happens, you will not be able to make phone calls using the VoIP system.  We recommend that you keep a Bell line active as an emergency line or use a cell phone to make calls during power outages.