GoCo is implementing a Two-Factor Authentication security enhancement which will affect any VoIP user accessing the GoCo portal.
After 10pm on April 23rd, this change will be in place. There may be down-time of 30 minutes while the portal goes through this maintenance window.
When a user tries to sign in to the portal they will be directed to the instructions to set up Two-Factor authentication.
The options for the Two Factor Authentication are via a call or SMS Message.
---
Two Factor Authentication
Step 1
Sign in to the GoCo portal
Enable 2-Factor Page
Select Next

Step 2
Select the authentication method you would like to receive.
Please note the method cannot be changed after it has been enabled.
If authentication method needs to be changed please contact the VoIP Support Team to remove the old profile and have user re-enroll.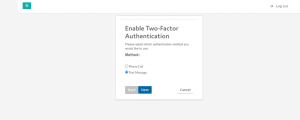 Step 3
Enter the phone number using the format: country code + phone number.
Example: +1 416 333 5555
Only North American phone numbers can be used to receive SMS.

Step 4
Customer will get token after the phone number register successfully.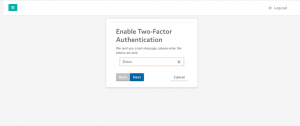 Step 5
If the token is entered correctly. Customer will see below page, click continue to the main page will redirect customer to the page.

Step 6
Every time after customer logs in they will see below page with U of T branding to enter the token number provided.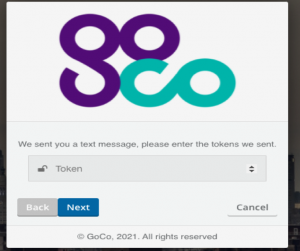 ---
If the wrong number is entered after Two Factor authentication is set up, please email voip.support@utoronto.ca to reset your profile and include your request for us to process.
There is a 5 minute timeout to enter the token once selected.