Support
If you need support on a VoIP issue or have any questions please contact us at Telecommunications:
or call us at: 416-978-2000
Training
For VoIP training we have a specifically designed website for UofT with training guides, manuals and video tutorials for each of the different hardware models we support as well as the different desktop / laptop models using the Communicator 7 application. Click VoIP Training to access the myphonetraining website: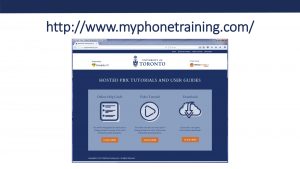 For those interested in learning more about the VoIP features or have questions on the best way to get the most from their telephony service we are happy to host virtual training sessions open to anyone.
Please contact Frank Di Muzio at Telecoms to arrange this with you.