Your BroadConnect VoIP voicemail can be configured to your preferences
Voicemail-to-email is included in your VoIP Standard or Premium license, but needs to be activated and an email address added. Once activated, your voicemail messages will appear with attached .wav sound files, along with the caller's ID, in the email inbox you have specified.
Setting Voicemail Preferences in Communicator 7
To set voicemail preferences in Communicator 7 on your computer, do the following:
Open Communicator 7 on your computer
Click the gear icon on the left to open Settings
Click the dark bar near the top and select Voicemail from the dropdown.
Please see the diagram below for a description and explanation of the options.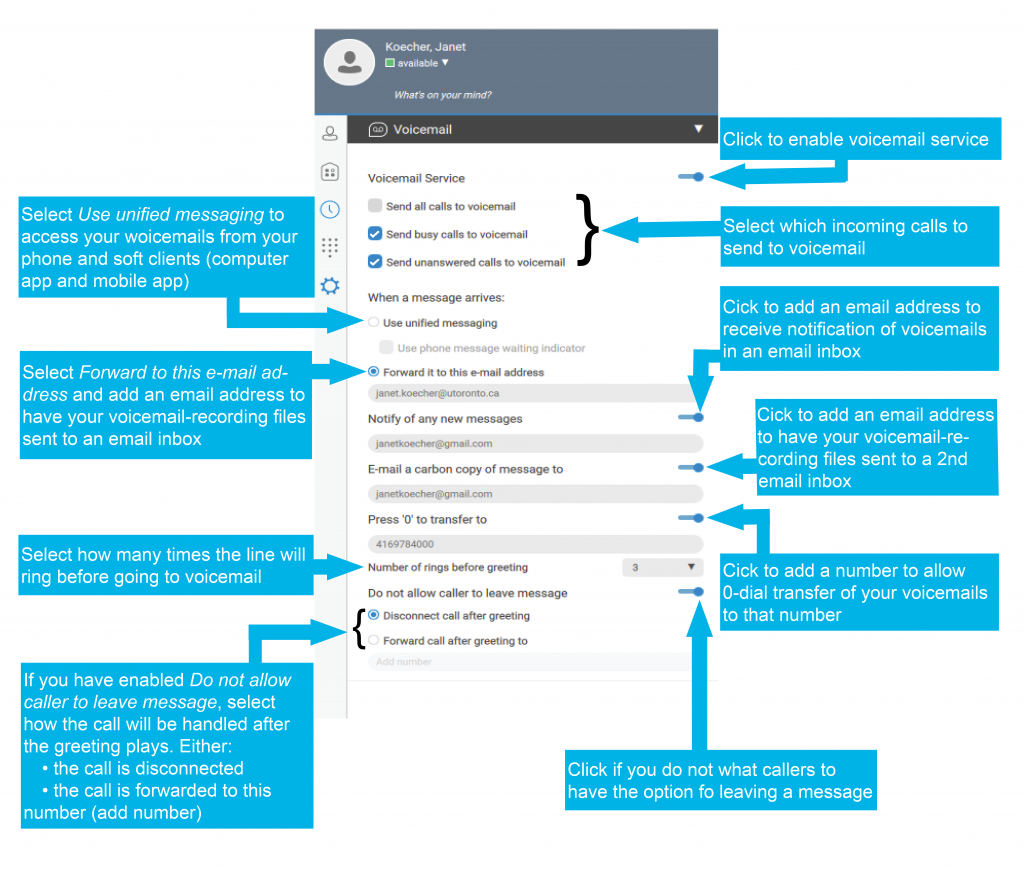 Moving to VoIP and Wish to Archive Your Saved Bell (CallXpress) Voicemail Messages?
If you are migrating to VoIP and have voicemail messages that you wish to archive, here's what to do.
anytime before the migration takes place (but preferably at least a few weeks in advance), enable voicemail-to-email by sending an email to voicemail.telecomservices@utoronto.ca, including your phone number and email address. Allow 3 days for the service to be implemented
NOTE: While it's best to this in advance of the migration to avoid losing any of your saved voicemail messages, your CallXpress mailbox will remain active for about 7 days after you migrate, so if you forget, there's still a chance to save your messages if you act quickly.
Your voicemails will be sent as .wav file attachments to your email inbox.